The Right Care Alliance's Campaign 

Against Outrageous Medical Bills and Crushing Medical Debt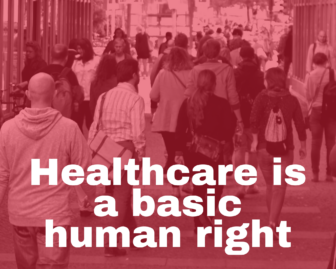 Like millions of other Americans, we in the Right
Care Alliance can see that our health care system is costly, wasteful, dysfunctional, and unjust. We believe that it needs radical structural change. The Right Care Alliance is committed to a long-haul fight for those reforms, but while we do that, we also can't wait: in 2023, the RCA will campaign for immediate relief from medical debt and outrageous health care costs.
. . . read our full statement here.
Join Our Fight Against Absurd Hospital Prices and Oppressive Medical Debt
---
Did you know that U.S. hospitals charge wildly different prices for the same procedure, depending on what type of insurance you have? And did you know that they often charge the highest prices to people with no insurance? And there are 23 million people nationwide with medical debt totaling hundreds of billions of dollars.
That's not fair, and we can fight for something better.
The Right Care Alliance is a grassroots organization that believes in genuinely universal health care and community control of the health system. If you share those values, please join us as we fight against hospitals' and insurance companies' profiteering. Together, we can fight for a world without oppressive medical debt.
Help us build a movement for a health system based on human needs, not the profit motive.